Can I Affix Dental Implants if I Already Have Gum Disease?
---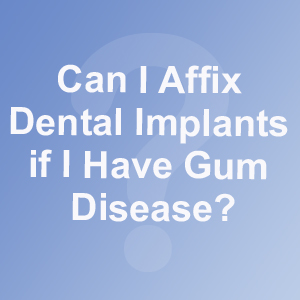 If you are looking to fasten dental implants, then considering an implant dentist will enable you to attain the missing tooth. Dental implant surgery possesses an enviable rate of success at 98%. But gum disease can cause an implant to fall out like a natural tooth. In our previous blog, we have explained the benefits of dental implants done by an implant dentist in Stuart. However, if you are interested to know about dental implants and how gum disease can impact longevity, please read on.
What is Dental Implant?
A dental implant is a titanium composite or titanium metal column that is surgically planted in your jawbone. It behaves like an anchor and acts as a bulwark for the dental implant. Osseointegration process fuses the prosthesis with the bone in a few months. Abutment is employed to affix the artificial tooth or crown above the implant. Dental clinic in Stuart offers you two types of dental implant, endosteal and subperiosteal.
What Causes Gum Disease?
Gum disease predominantly begins with plaque build-up on your teeth which is a thin biofilm hosting the bacteria. Though there are many factors that can cause gum disease, poor oral cleanliness and consumption of food and beverages containing sugar causes plaque to build up. This causes gum inflammation (Gingivitis) and this may turn into gum disease (periodontitis). In addition, our implant dentist in Stuart listed other risk factors like oral hygiene, smoking or chewing tobacco, broken fillings, chemotherapy, diabetes, suppressed immunity as with HIV and certain medications can increase the risk of gum disease.
How Is Gum Disease Treated?
Dental practice in Stuart can help you in treating gum disease. If the disease is not severe then the dentist may advise you a mouthwash to disinfect your mouth. Oral antibiotics are also used to treat the inflamed area. Antiseptic chips and antibiotic microspheres can be placed in the pockets.
If your gum disease is severe that may have caused jawbone loss. Then an orthodontist or emergency dentist in Stuart may advise you flap surgery to remove plaque from the deeper pockets. Gum grafting or bone grafting is used when the damage is severe.
Gum Disease and Dental Implant: Can You Get One if You Have Gum Disease?
Dental implants are the perfect replacement if you encounter a missing tooth. Infected, sore, or inflamed gums can cause advanced gum disease if left unattended. If you are looking for a dental implant and suffer from gum disease, then you need to get dental treatment in Stuart for the gum disease. Periodontitis can compromise the stability of the implant. Hence, it's imperative to get the gum disease treated before the implant.
Conclusion:
If you suffer from gum disease and may have lost some of the jawbone through resorption, you will need bone grafting before getting the implant. Frances J DuCoin DMD can help you with dental implants in Stuart. It's important to take preventive measures to ensure you maintain excellent oral hygiene to increase the longevity of the implant. Browse through our website of Frances J DuCoin DMD to learn more about our services. Call us at 772-287-6159 to have a conversation with them right away.
---
---